White Label WordPress Support
Save time and earn extra monthly revenue.
Outsource professional WordPress maintenance, support and hosting to your agencies clients.
As a RelyWP partner, you get up to a 20% discount on all our maintenance plans.
Why partner with us?
Are you an agency with clients that require WordPress maintenance, hosting and support services, but you don't have the time or resources to help them with all their tasks, site edits and questions?
Our partner program allows you to provide your clients with professional care and support for their website, completely white label, whilst earning some extra income by charging your own pricing for our plans to your clients.
You can even combine this with your own monthly services, such as marketing, design and SEO.
What services will be white label?
Everything we do for you is 100% white label. Your client will never hear about RelyWP, so you take all the credit.
You will be required to create a custom email address for us with your domain, which will be linked to our system.
If your client requests any work not covered by the care plan, we'll notify you, or forward the task/message to you.
Expert Support
We'll handle all of your clients smaller questions and issues regarding their WordPress website, so you can focus on the bigger things. Our live chat support tool is integrated directly on their site dashboard and 100% white label!
Website Tasks & Edits
Your clients can submit their small site tasks and edits directly on their website, via our white labelled visual support tool. We'll then take care of them if it meets the scope of the plan (see here) or notify you if the task requires larger development work.
Ongoing Maintenance
We'll manage all the important ongoing maintenance tasks for your clients website such as weekly software updates, daily off-site backups, security protection, daily security scans, performance optimisations, site reports, and managed WordPress hosting (optional).
Website Management Dashboard
Manage all your websites on our custom built website management dashboard. Securely share encrypted login details, keep track of development tasks logs, backups, uptime monitoring, blacklist monitoring and more.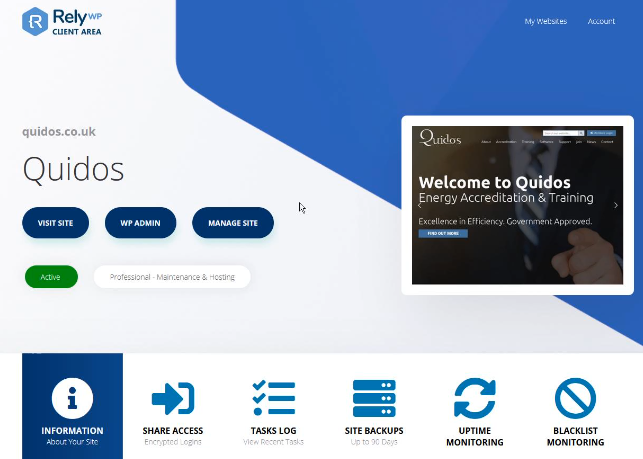 What are the bulk discounts?
You'll get a 10% discount for 2+ websites, or a 20% discount for 10+ websites.
How much could you earn?
Get up to 20% off our care plans, allowing you to give your clients unlimited tasks, maintenance and support for as little as $154/site£116/site per month on the Professional plan, or offer our Standard plan features for just $69/site£52/site per month.
If you were to sell just 10x Professional plans at $250£200 each, you could earn an extra $11,520£10,080+ per year.
Get an additional 2 months free if you pay yearly!
Ready to give your clients incredible WordPress support?
"RelyWP are reliable, knowledgeable & care about their customers. Their technical support & customer service is second to none. I don't think you will find a better service provider out there."