WordPress Growth Plan
Helping you grow your business.
APPLY NOW
Starting from £500 per month.
Our 'Growth' WordPress care plan includes a selection of benefits to help you grow your business. These services are specifically designed to help get your digital strategy on the right track, and to make sure your website is fully optimised for improved search engine rankings, high conversion rates, and lead generation.
Additional addon services are also available, such as PPC Ads management, Link Building, Social Media management, Online PR and more.
Please see below for a list of all the digital marketing services and features available in our Growth plan.
Analytics Dashboard
Our SEO and Marketing dashboard allows you to track daily ranking updates for up to 100 keywords, as well as Backlink Monitoring, PPC analytics, Social Media Analytics, Competitor Tracking, Google Analytics, and more for your WordPress website. This dashboard will help your take your digital marketing strategy to the next level.
You can also connect Google Analytics, Google Search Console, Google My Business, Facebook, Twitter, LinkedIn, email campaigns, PPC advertising platforms, for more detailed analytics reports, and includes over 30 other popular app integrations.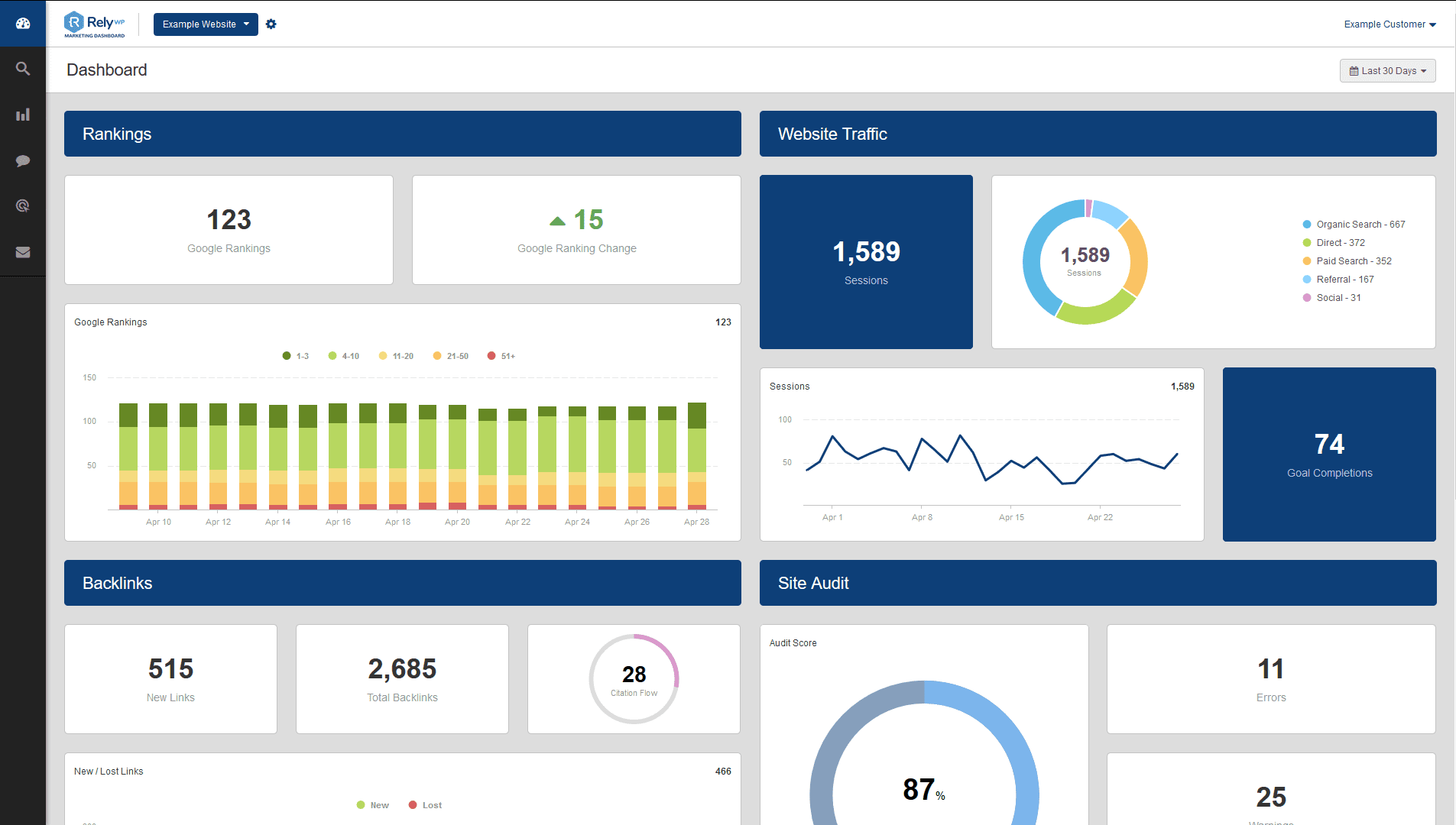 Monthly Analytics Reports
A detailed report will be sent to your email every month based on the data from your SEO & Marketing anaytics dashboard, and the most recent SEO audit. Your reports can also be downloaded on your dashboard.
Monthly Website SEO Audits
We will perform a monthly SEO audit of your website, auditing up to 5000 pages/posts for potential SEO issues or improvements. Results are included in your monthly SEO & Marketing Report and visible on your SEO dashboard. Your unlimited "maintenance tasks" can be used to implement the SEO improvements that our monthly audits recommend.
Daily SEO Keyword Rankings
Keep track of daily ranking updates for up to 100 keywords, with comprehensive analytics.
Search Console Support
We will help you setup, manage and maintain 'Google Search Console' on your website. This can also be integrated with your analytics dashboard.
WordPress SEO Consultancy
We'll provide additional in-depth WordPress SEO consultancy and guidance for your website. This includes a manual SEO review for your site each month, followed by our expert advice and SEO suggestions for your site and SEO strategy. Your monthly 'maintenance tasks' can be used to implement any small changes and improvements we may suggest for your website from time to time.
Lead Generation Setup & Support
We will assist you with implementing, monitoring and improving lead generation on your website with things like 'optin popups' & 'lead generation forms'. We can also install premium 'online marketing tool' plugin 'Hustle' by WPMU DEV. Quickly setup email opt-ins, custom ad pop-ups and slide-ins, and floating social bars to help drive results, increase leads and create a following.
Conversion Rate Optimisation
We will setup advanced conversion monitoring, and provide monthly consultancy & suggestions to help increase your website conversions, leads and sales. This includes a manual 'conversions' review per month, in which we'll send you a report with our findings and suggestions. We may also setup A/B testing to find the best ways to convert visitors to sales/leads on your site. Implementing small changes and improvements can be covered by your unlimited "maintenance tasks" included in the plan.
Quarterly Strategy Review
Quarterly reviews of your website and digital strategy. We'll review your growth (SEO & Conversions) over the past 3 months, analyse your current 'goals', compare those with your overall analytics data, and provide a detailed custom report/checklist with suggestions on what improvements can be made to achieve these goals moving forward.
Additional Addon Services
We offer additional addon services to help take your digital strategy to the next level. For some of these addon services, we will work alongside with our trusted digital marketing partner.
PPC Ads Management
Pay Per Click advertising is one of the best ways to target the best potential customers for your business. This is especially good if you want to target high value keywords, or whilst your organic rankings are catching up. Our specialist PPC ads team will work with you to create effective PPC ads campaigns that deliver results, within your budget.
Content Marketing Strategy
Grow your following and improve search visibility. We'll manage your blog and content strategy, creating 1 – 4 monthly custom keyword-focused blog posts (roughly 1000 words each), related to your website, products or services, with managed tags & categories. These articles will be written by approved expert UK writers that we partner with. Includes Stock Images, Keyword Research, Monthly Newsletter, Social Media Posting, and more.
Link Building
Link building is the process of acquiring hyperlinks from other websites to your own. Building high quality links to your website on the internet helps improve your online reputation, and search rankings.
Social Media Marketing
We'll help manage your social media accounts, to get your company the attention it deserves, grow a larger following, and increase your overall brand reputation.
Local Business Citations
Local Citations are multiple consistent mentions of your business information and website, on different directories found on the internet. Search engines use these mentions as a trust signal and consistent "NAP mentions" of your business will help you to rank within local Google search results. Includes 100% Manual Submissions, Full Submission Report, Submission Screenshots, All Login Details Provided, and supports submissions for UK, US, Aus & Canada. Contact us for more details.
Email Marketing
Creating interesting email marketing campaigns is a vital way to stay connected with your customers and leads. We'll help you build and manage your email campaigns, with strategic content strategy, and provide detailed analytics reports.
Interested in getting started?
To get started, click here to apply for our growth plan. We'll then get back to you to discuss further details, and provide an estimate monthly cost for your custom plan.
Contact us if you have any questions.