If you own and operate a WordPress site, it's likely that you've already noticed plenty of your fellow website owners using Live Chat software to engage with their visitors and customers. It's certainly an appealing prospect, and on the surface, you might wonder why everyone, you included, isn't using one.
Live Chat software can put you in direct contact with your consumers, clients, customers, and dedicated readers. It's also a superb way for those who haven't yet used your service to get more information. So, if it is so great, why isn't everybody using it for their website?
Well, as useful as Live Chat can be for your website, it's not perfect for everyone. We've composed a list of Advantages and Disadvantages to give you a thorough overview of what to love, and what not to love about live chat.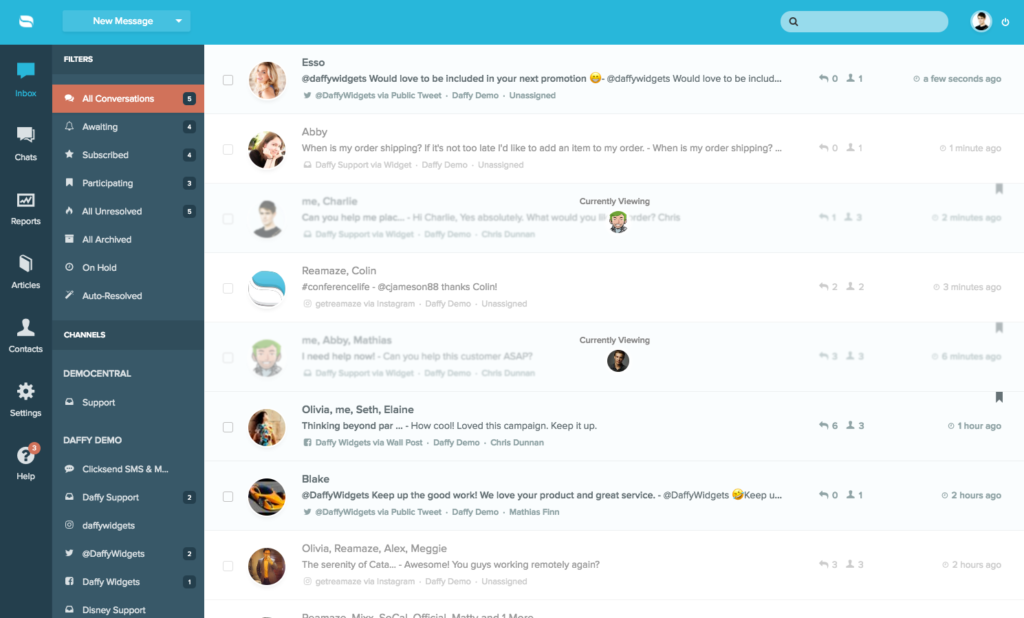 Re:amaze Dashboard
Advantages
Live Chat services offer many advantages for businesses to consider. Here are some of the most prominent.
Convenient for Everybody
Live Chat services are arguably the most convenient ways for you to interact with customers throughout the day.
Furthermore, while some customers may be at first apprehensive discussing their needs with a Live Chat service, this removes the issues that call centers, or similar solutions offer. There are no terrible lines or background noise, while there will be no issues with understanding accents. Through this, you can guarantee easy customer satisfaction and likely enjoy repeat customers in the future.
Chat bots can also provide instant support and faster responses than human agents working around the clock. As the chatbots work through intelligent algorithms and machine learning, they become more sophisticated over time.
Increases Sales and Prevents Cart Abandonment
Companies that use Live Chat software also see an increase in sales and fewer instances of cart abandonment. While sometimes customers will abandon their carts because they got distracted, most of the time, they leave products in the shopping cart to 'think more about it.' By giving them the chance to engage with Live Chat, you can minimize these instances and see an increase in your sales.
Besides this, you may also see an increase in customers purchasing additional products at the checkout. Your Live Chat service can recommend complementary products to customers before they make their final purchase. If you offer deals, such as free delivery over a specific amount, then this could convince customers to add these products to their cart under the guise of saving money.
Automated Triggers And Rules
With Live Chat, you do not need to wait for the customer to come to you, but rather have the Chat service ignite the conversation for you. This is done through automated triggers and rules, which can proactively engage customers with messages and calls to action based on previously assigned triggers and additional rules.
For example, customers who come and regularly go without making a purchase can be alerted to deals, which could encourage them to buy something. Similarly, it could be that they are struggling to find a specific product. In this instance, the Live Chat could ask for confirmation about what they are looking for and then direct them to the appropriate products depending on keywords in the response.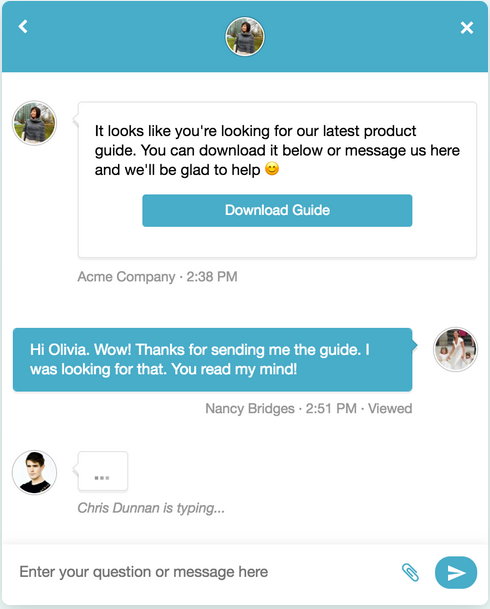 Source: Re:amaze
Chatbots To Help Answer FAQs
Frequently Asked Questions are useful for customers to get an idea of things such as prices, shipping, company background, production practices, and more. However, regularly answering these FAQs, especially as a human Live Chat agent, can be time-consuming and tiring.
For such questions, you can set up Chatbots to respond and provide information rather than relying on the human element. This frees up time for real agents to engage more adequately with other customers who have more pressing issues that could affect the business more dramatically.
Despite the reliance on Chatbots for answering FAQs, they can still provide a more human element to these online interactions. This helps to build better relationships. While an individual may be fatigued from answering the same question throughout the day, a bot will answer each query with the same level of enthusiasm.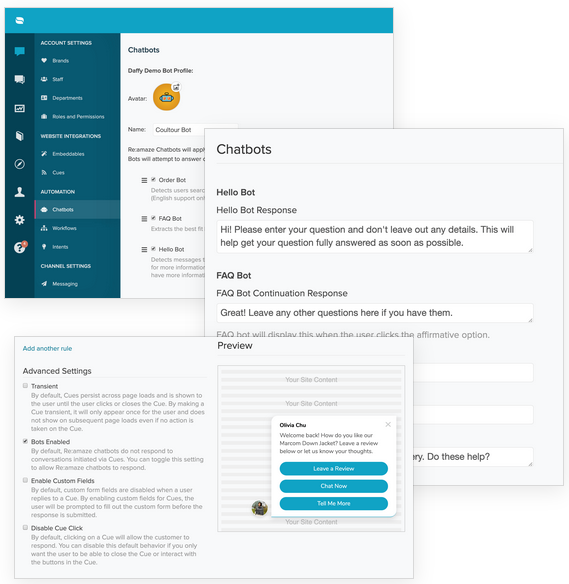 Source: Re:amaze
Advanced Reporting
Through analytics and similar metrics, your Live Chat service can deliver advanced reporting for you to focus on the most common issues or queries that customers bring to the platform. By focusing on the significant issues, you can help more people at the same time, which will boost customer satisfaction.
These metrics also make it easier to review the quality of the support that your staff offer. If you find a specific issue continues to crop up, you can make adjustments to the overall setup of the Live Chat service and measure any changes quickly and efficiently without experiencing too much downtime or drops in productivity.
Quick Resolution Of Errors
One final advantage of Live Chat services compared to phone calls or email responses is that it can arrange for a fast resolution of issues that could hinder the progress of a sale or further business. While most customers will not encounter any problems on your site, it's still vital to be prepared for the worst, and Live Chat can make this more straightforward than other methods.
These issues can include forgotten usernames, passwords, or even email addresses. If you elected to use a call-in service, customers would need to wait in the queue, especially if it is busy. If you used email, they would need to wait around for a response, which could take more than 24-hours, and not everyone has time for that.
With Live Chat, you can respond to customers and solve such issues immediately. This reduces downtime and keeps the consumer process flowing, resulting in more sales by the end of the experience.
[wd_hustle id="EbooksSignup" type="embedded"/]
Disadvantages
Despite these advantages, there are also disadvantages that businesses must be aware of before investing in Live Chat for their WordPress website.
Monthly Subscription Cost
Depending on the Live Chat service you choose, you might find it is expensive to run. Typically, there are monthly subscriptions that can eat into your profits, and if the Live Chat experience is not as successful or popular as you had hoped, this can be an issue.
Some Live Chat companies also offer the option of additional support staff, but you will need to pay for this, too. While this support staff will not cost you much (some are as cheap as $1 an hour), it still doesn't equal a good investment if not enough people use the Live Chat service when they visit your website.
Increased Amount Of Time Providing Support
Because Live Chat services only work when both parties are online, you may find that there is an increased amount of time providing support per agent, and this can affect productivity and even have a domino effect on the rest of the service.
The longer one customer query takes, the more others will have to wait. While you can work with multiple customers at once, this could lead to mistakes as the attention is not solely on one customer at a time. This issue is similar to phone or email services, and if these alternative services can prove more effective for your customers, a Live Chat service may not be worth the investment.
Can Set False Expectations
Live Chat can speed up response time like phone calls, and emails never could. However, this could set a dangerous precedent for future interactions with the same customer should they have another issue later on.
If you are fast to respond initially, they may expect a quick response to every question they ask, whether this is in the same chat or another one, even during peak times or during out-of-hours periods. If they feel that you are not quick enough to respond, they may abandon the chat altogether, which risks losing a sale and even any future purchases from this customer.
Time Wasters
No matter your business, there is always a chance that you might get prank chats come through that waste your agent, or even your Chatbot's time.
These can be frustrating, especially if the chat seems authentic at first, but they are not impossible to avoid. You can overcome this by blocking the person who continues to send you odd requests. If this still does not work, consider going a step further by requiring mandatory email addresses in any pre-chat forms you have, which should decrease any problems significantly.
Despite this, it's always best to be cautious, as you could be dealing with someone who does not speak English (or whatever your base language is) as their primary language. For times like this, you need to use your discretion. You can ask yourself whether the chat is legitimate and decide from there.
Not As Effective For The Older Demographic Or Less Tech-Savvy Users
While most internet users are tech-savvy enough to work out their problems or ask questions using Live Chat, the older generations, those who did not grow up on Facebook or similar platforms may not be so accustomed to talking over Live Chat instant messaging services.
As they grew up finding out information over the phone, they may prefer to do so now. The Live Chat process is much more comfortable, however, older users may still prefer to speak 'to a human being,' and even if the person on the other end of the chat is a human agent, this may not come across as such for them when using your Live Chat service, regardless of any assurances to the contrary.
Because of this, some customers may not even like the aspect of a Live Chat, and this could risk their satisfaction and proficiency with using the Live Chat service. From here, you could expect to lose business as a result of such measures. If your target market is the older generation, it is worth offering alternative services, such as phone calls and email correspondence to mitigate any problems you could face.
Live Chat Options
If you still decide that Live Chat for your WordPress website is something you will benefit from, you need to know the best options available. We don't want you to waste valuable time scouring the internet, though. Here are the best Live Chat options for everybody.
---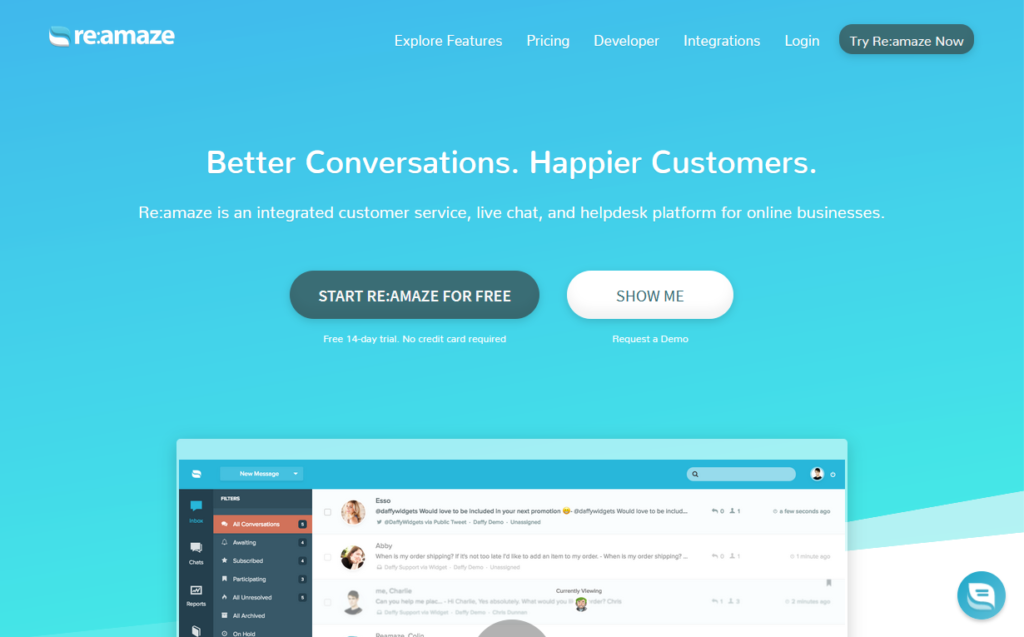 Our Recommended Pick
Re:amaze is our top recommended pick if you're searching for a robust and reliable Live Chat option. It offers functionality to automatically trigger conversations for better customer engagement, along with clever chatbots, an FAQ center, status pages, activity monitoring, an easy to use desktop/mobile app, and more. You can also manage multiple channels for multiple businesses, which is ideal for entrepreneurs who run more than one company.
RelyWP has been using Re:amaze live chat software since early 2019, to engage with our customers and provide ongoing support via our WordPress maintenance plans. We are generally extremely happy with the overall functionality, support and user experience provided, and will continue to use it for the foreseeable future.
If you're interested but want to see how good it is for yourself, you can sign up for the 14-day free trial. Unlike most other services across the internet, there is no credit card and no obligation required, so if you feel it's not for you at the end of the 14-day trial, there's no pressure for you to continue using it.
---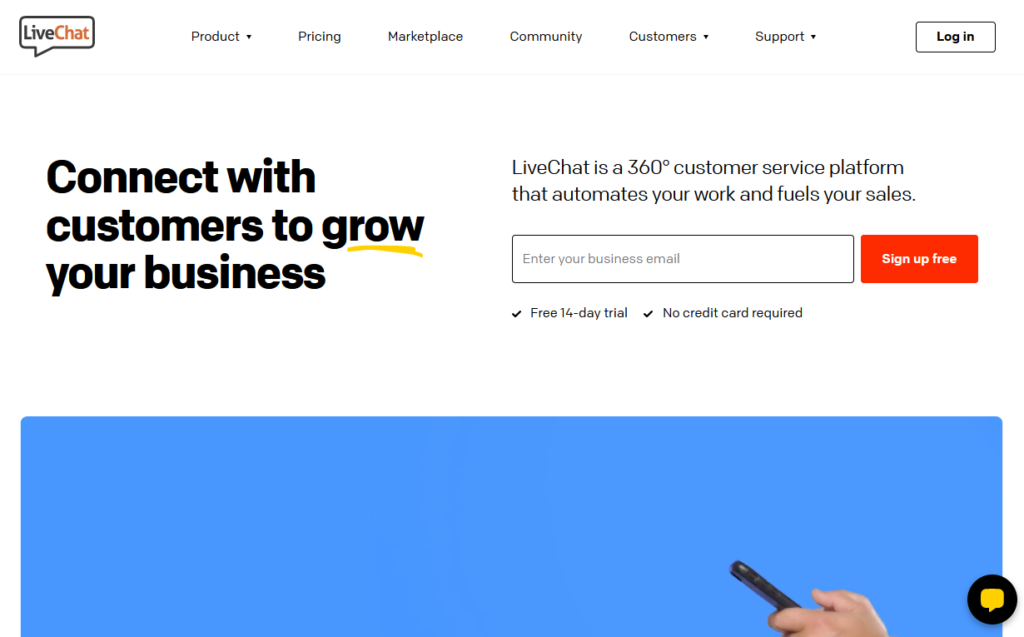 Our Alternative Pick
LiveChat is another option to consider. It provides 360-degree customer service that offers some great automation features. You can use it to recommend products for customers and offer complementary products at the checkout to increase sales and profits further.
Much like Reamaze, you can sign up to test LiveChat out with a 14-day free trial that doesn't require a credit card. Doing this will help you get to grips with the intricacies of the software while also allowing you to cancel at any time within these 7 days if it doesn't suit your needs.
---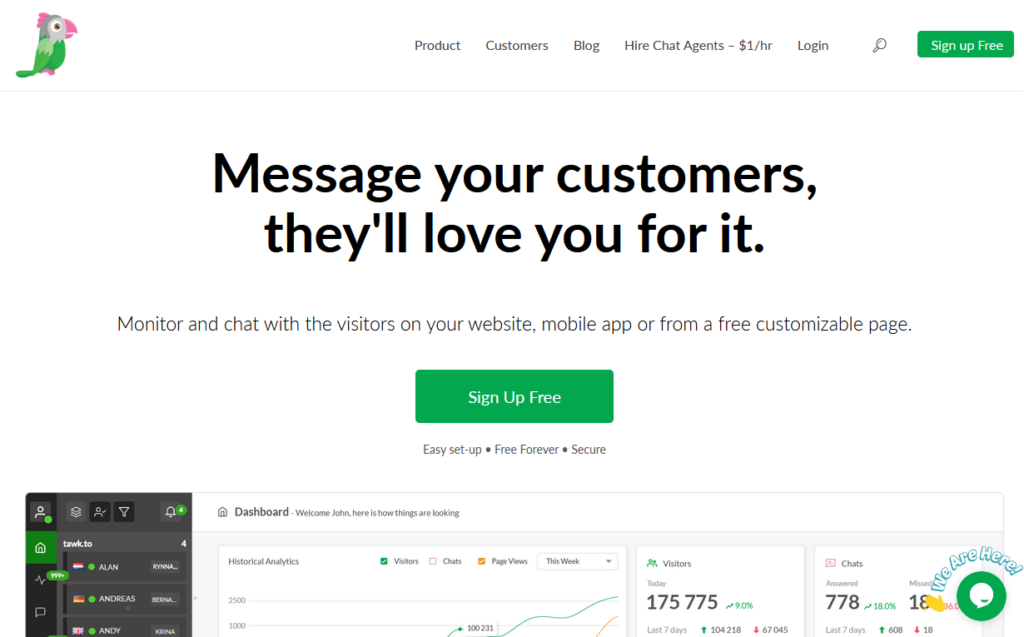 The Free Option
If you're a small business, you may prefer to save on costs by using the Tawk software, which is available on both desktop and mobile platforms. It's suitable for a range of industries, including Fashion, Health and Fitness, and Furniture. The dashboard is clear and straightforward, while the reliability of chat agents ensure you never miss another customer.
As it's free, it's unlikely to be as customizable or in-depth as other options. Still, if you're hoping to provide superb customer service, this secure option is certainly one to consider for businesses on a budget.
---