Included with our Enterprise plan, the SEO and Marketing dashboard allows you to track daily ranking updates for up to 100 keywords, as well as Backlink Monitoring, Competitor Tracking, Page Analytics and more for your WordPress website. You can also connect Google Analytics, Google Search Console, Google My Business, Facebook, Twitter, LinkedIn, email campaigns, PPC advertising platforms, and includes over 30 popular app integrations.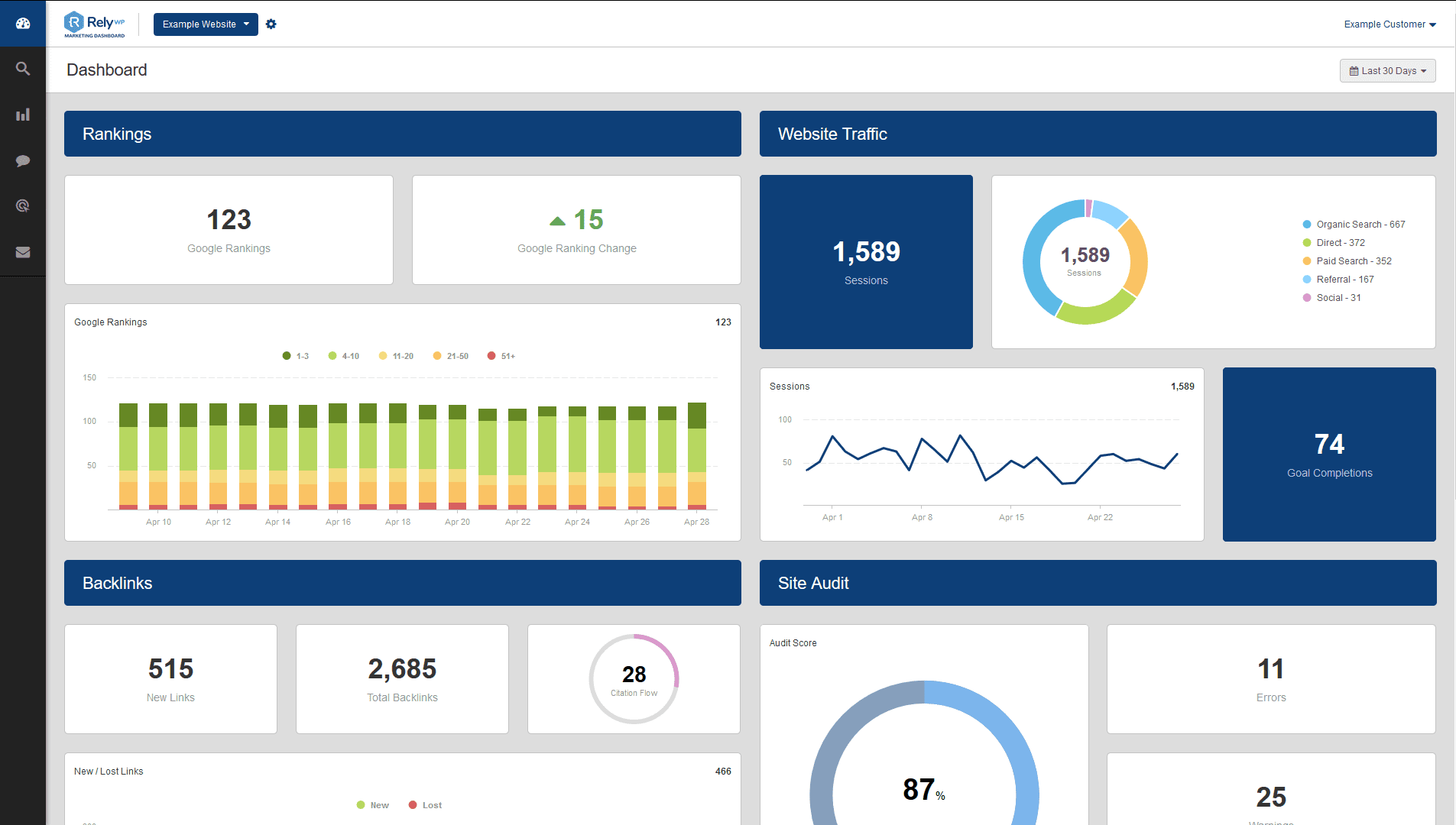 WordPress SEO & Marketing Reports
A detailed report will be sent to your email every month based on your SEO & Marketing dashboard statistics and the most recent SEO audit which will take place every month. Your reports can also be downloaded on your dashboard.
Monthly Website SEO Audits
We will perform a monthly SEO audit of your website, auditing up to 5000 pages/posts for potential SEO issues or improvements. Results are included in your monthly SEO & Marketing Report and visible on your SEO dashboard. We'll also spend 20 – 30 minutes each month manually reviewing your SEO & marketing audits. Your monthly maintenance tasks can be used to implement the SEO improvements that our monthly audits recommend.
Daily SEO Keyword Rankings
Keep track of daily ranking updates for up to 100 keywords, with comprehensive analytics.
Backlink Monitoring
Get a detailed backlink profile for your website. Monitor your progress by tracking new and lost links over time. Gain deeper insights about your most valuable links with trust flow metrics. These metrics will also be shown in your monthly SEO & Marketing report.
Competitor Tracking
Competitor rankings and analysis that show how your website compares.
PPC Analytics
Automatically pull in all of your data across multiple PPC networks like Google Adwords, Bing Ads, Adroll, LinkedIn and Facebook Ads and view automated detailed reports about KPIs like clicks, impressions, cost & CPC.
Social Media Analytics
Save time with streamlined social media reports that include every social media channel: Facebook, Twitter, Youtube, Google Plus, LinkedIn, and Instagram.
Analyze engagement across all your social channels with metrics like clicks, comments and shares. Use this information to understand which channels perform best or pinpoint areas that need improvement.
Email Marketing Analytics
Keep track of your email campaign performance on your dashboard. Integrates with the top email marketing platforms including MailChimp, Campaign Monitor, Constant Contact and Active Campaign.
Google Analytics Integration
Clean, streamlined Google Analytics reporting inside your dashboard. Custom crafted for intuitive data visualization. Cut through the noise, and visualize trends in a crystal clear graphical format. Dissect data by channel to determine your most valuable traffic sources. Segment visitors by location, age, gender and device to uncover hidden traffic.
WordPress SEO Consultancy
We'll provide general WordPress SEO consultancy and guidance for your website to help you keep your site well optimised and answer any questions you may have. Your monthly maintenance tasks can be used to implement the SEO improvements that our monthly audits recommend.
Lead Generation Setup & Support
We will assist you with implementing, monitoring and improving lead generation on your website with things like 'optin popups' & 'lead generation forms'. We can also install premium 'online marketing tool' plugin 'Hustle' by WPMU DEV. Quickly setup email opt-ins, custom ad pop-ups and slide-ins, and floating social bars to help drive results, increase leads and create a following.
Search Console Support
We will help you setup, manage and maintain 'Google Search Console' on your website for free. Development & maintenance tasks usage may however be required to help fix any advanced issues that may be displayed via Google Search Console.
—–
Check out our plans and pricing to get started, or contact us if you have any questions.